WELCOME TO MASOMENOS
Dear art friends,
We are pleased to invite you to the unique event "Masomenos POP! a colorful trip to Masomenos World" by Katiuska Natera to celebrate the release of her latest album "UAP" - a retrospective of one of the different facets of Masomenos artistic journey. The acclaimed Parisian duo of multidisciplinary artists Joan, talented graphic designer and DJ, and Adrien, veteran producer and sound engineer, will perform alongside South Embassy and present a selection of their captivating works.
As Berlin serves as the stage for this exhilarating artistic endeavor, the first part of this ambitious project serves as an introduction to the captivating world of Masomenos. By embracing diverse artistic mediums, engaging viewers in interactive experiences, and fostering collaborations, the project aims to ignite inspiration, encourage creative expression, and provoke new perspectives.

Interview here >
Opening Masomeno's POP! Exhibition
Date: July 7, 2023
Admission: 6:00 p.m
Location: South Embassy, Alte Schönhauser Str. 33-34, 10119 Berlin

Since the early days of their career, the duo has dedicated themselves to the creation of different products, in addition to their musical production - living objects inspired by the fascination of Latin America, bearing the colors of their playful, psychedelic and limitless universe. Over the years they have not only released albums embodying different phases of their musical and visual explorations but also produced a variety of design items. These expressions of her art range from industrial production to handmade, limited edition, crowdfunded and collaborative products on a variety of mediums such as clothing, stickers, posters, lamps, pins, scarves, carpets, embroidery, dolls and much more.
Borrowing from the famous Keith Haring pop shop that opened in New York City in the 1980s and later also found in Tokyo, Masomenos has always cited Keith Haring as one of her main inspirations at all levels. As Keith Haring once said of his Pop Shop, "The Pop Shop makes my work accessible. It's about participation on a grand scale." With this in mind, we would like to offer you the opportunity to experience the artistic world of Masomenos up close.
Masomenos has created a creative playground to explore new possibilities for creating multimedia art today. Her label "Welcome to Masomenos" has already released installations, artworks, events, recordings and other products that reflect her visionary, spontaneous, joyful, psychedelic and border-breaking artistic universe. Her groundbreaking "See The Music" project translates musical compositions into captivating displays of light and wows audiences with its innovation. Her creative space "My Masomenos" encourages us all to create our own colorful and playful world through workshops.
Let the music, visual effects and installations of Masomenos take you on a journey of discovery and exploration into the vast universe of art. Join us as we create a unique artistic experience together.
We look forward to seeing you at "Masomenos POP!" to welcome you and embark on an unforgettable artistic journey together.
UAP
Unidentified Aerial Phenomena
- album and art -
Here comes the eighth album from Masomenos, and this time it's out on Automatic Writing. Unidentified Flight Phenomena. The mystery... unsolved. The others... are coming. Or were they there all along? We keep looking outside, fearful and excited. Who is the other, who are we? An exciting adventure awaits on the way to this discovery, outwardly and, above all, inwardly.
In this new opus, Masomenos surfs the border between club sound and home listening and invites friends along for the ride. Julien Quentin on piano, Adrien Boisseau on viola and San Proper on vibes & vocals. They also did a psychedelic video with Manon Villa and Anne Claire Gambet for the track Cleopatra. The artwork is from a series of original paintings called "The Egyptians" and includes symbols such as spiral, pyramid, eye and snake.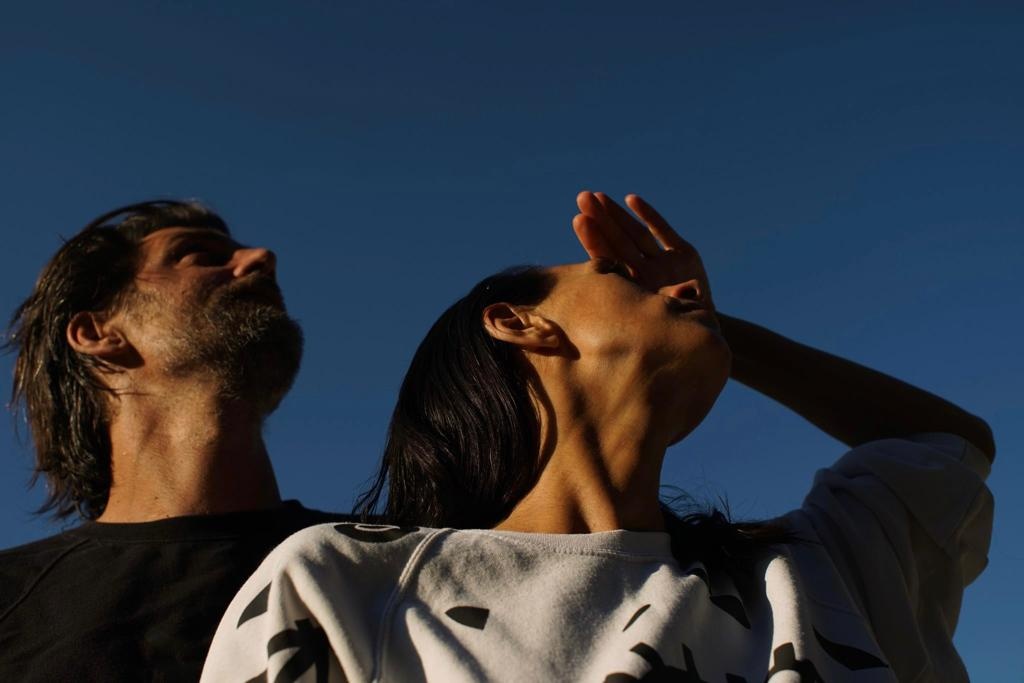 Masomenos has collaborated with various international artists creating unique installations and exhibitions. From installations to art, music, design, style, children and video, their unwavering passion and dedication to their craft has enabled them to push the boundaries of traditional art forms and explore the limitless possibilities of the universe. Together they form a dynamic partnership that seamlessly blends audiovisual elements.
Music, art and light installation
Over the past year they have been working intensively on immersive art installations that explore the interplay of sound/music and light/visual elements. They have developed a breakthrough technology called "See The Music" that translates musical compositions into captivating displays of light. In addition, they have created "My Masomenos", a creative space for all ages that offers workshop materials such as stickers, coloring posters, stamps and games, inviting everyone to help shape their colorful and playful universe.
Drawings, paintings and sculptures
One of the different facets of Masomenos' work is her drawing and painting technique. The bold, bold black outline and bright solid colors have been part of her style since Masomenos was founded in 2005. Joan always has a pen in hand, probably a posca or felt tip pen, to scribble, draw b-boys, and invent lettering. But it wasn't until she met Adrien and they banded together as Masomenos that their style took another turn when they began vectorizing the drawings for t-shirt and record cover prints. The curved and smooth contour as well as the block coloring became her trademark. Most of her first artworks and prints came from this process of vectorizing original drawings.
Meanwhile, on his side, Adrien has been working with lights and 3D to add a different kind of dimension to Joan's mostly two-dimensional art. The ongoing dialogue between the narrative/illustrative/2D component and Adrien's architectural, 3D spatial approach resulted in interactive audiovisual installations.
Fully immersed in the approach to light, Joan also began to incorporate this idea of light into painting, using reflective, glittering, neon, glow-in-the-dark or iridescent colors. She also drew inspiration from working on colorful shadows. This new technique of reproduction gave her the freedom to experiment with different techniques in a single work.
KATIUSKA NATERA

KATIUSKA NATERA is a curator whose passion for art has led her to an international career dedicated to curating meaningful and transformative artistic experiences. Born in Caracas, Venezuela and currently based in Berlin, Germany, Katiuska holds a degree in International Business.
With over 15 years of experience, Katiuska has delved deeply into the world of international art and has tirelessly conceived, organized, implemented and promoted various types of art events. From the enchanting world of music to compelling exhibitions and performances, she has explored diverse artistic expressions and witnessed the profound impact they can have on individuals and communities.
One of Katiuska's strengths lies in promoting creative concepts tailored to the specific needs of end users, whether they are venues, artists, brands or services. By understanding her unique requirements, she has been able to curate exhibitions and events that truly resonate with audiences and create immersive and engaging experiences.
Katiuska Natera, suggested South Embassy to present an overview of almost 20 years of creative endeavors through the pop lens and to introduce some new exclusive "UAP creations". Katiuska, who has been following the artists' work for years after booking the musical act of Masomenos in Caracas (Venezuela) long ago, is today proud to present her vision of this distinctive feature of Masomenos' work. What could easily be overlooked as marketing is here shed as a light on a genuine artistic process aimed at making art in all forms accessible to all audiences and building communities as in the underground scene.