ORIGINAL BEANS ORGANIC CHOCOLATE ZOQUE 88% - 70g - MEXICO
Product description
ORIGINAL BEANS CHOCOLATE BAR - ZOQUE 88% - 70g - MEXIKO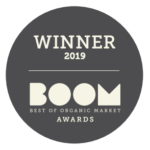 Organic chocolate bar with courageous dark chocolate Tabasqueño bean, Selva Zoque, Mexico.
TASTE NOTES
Tropical aromas of lychee and coconut in this select tribal Tabasqueño cocoa have inspired the local Zoque and Tzotzil Indians in their home in Mexico's largest rainforest, the Selva Zoque, for 4000 years.
One Bar: One Tree
The indigenous Zoque and Tzotzil tribes with whom we make this chocolate have overcome centuries of oppression and have remained true to their age-old traditions in Selva Zoque, the largest rainforest in Mexico. The original Zoque tribes made their forest - or "Selva" - the birthplace of cocoa by inventing the name "Kakaw" and a god for the fruit: the cocoa-eating spider monkey. Every purchase of a Zoque 88% helps preserve these 4000 year old traditions and their sacred animals.
DETAILS
Ingredients: cocoa mass *, raw cane sugar *, (cocoa 88% min.) *.
* Certified organic.
* Allergen information: Cocoa can trigger allergic reactions.
CHARACTERISTICS
NUTRITIONAL VALUES per 100g
Energy: 2458kJ / 587kcal
Fat: 49g
- of which saturated fatty acids: 30g
Carbohydrates: 19g
- of which sugar: 11g
Protein: 10g
Salt: 0.02g

MANUFACTURER
ORIGINAL BEANS

€5,45